Wow, can't believe it's been this long since I've posted. Don't have anything too interesting to say, just wanted to make sure you all knew about the "Not in My House" tour that's starting tomorrow.
I don't have time to post all the tour dates, but head on over to Rooney-band.com to check them out
Also, rumor has it that Rooney is coming back to Germany in March.
Here's the official music video for "Watching You" by jr.
I'm not too sure what the deal is with jr., but I think I remember Robert tweeting about this video shoot back in September? Anywho, I like the song and the video. Check it out
(Was just told that jr. is Robert and John Taylor from Ocean Grove Band / The Jonas Brothers)
JR from gia coppola on Vimeo.
Director: Gia Coppola
Cinematography: Matthew Lloyd
Editor: Eric Maldin
Funk Factory Films
Huge thanks to Sam for letting me know about the video
In case you missed it, Rooney played at a benefit for IMAGINE THERE'S NO HUNGER, taking place at the Hard Rock Cafe in Hollywood the other day.
WhyHunger has joined Yoko Ono Lennon and Hard Rock International in the Hungerthon campaign "Imagine There's No Hunger" to help hungry children. You can donate at hungerthon.org to receive "Imagine" bracelets, pins, and shirts, bid on auction items, and learn about our community partners.
source : WhyHunger.org
Definitely a worthy cause! So consider donating…. I'm personally looking at these Imagine wrist bracelets, but you can also Make A Donation Only.
While you are considering your contribution, check out these videos from the benefit.
Rooney – Happy Christmas (War is Over) 
Rooney, Ringo Starr, Joe Walsh, Edgar Winter, Dave Stewart, Lucy Walsh and more – Give Peace A Chance
There's more videos from the benefit on the LAwomanPhotography youtube channel.
.-.-.-.-.-.-.-.-.-.-.-.-.-.-.-.-.-.-.-.-.-.
Also, remember that Rooney is releasing a 5 track Christmas EP this year. The only info so far is that it'll be released on December 1st.
In case you haven't heard, Taylor and his band "Taylor Locke & the Roughs" have just released a new album. The album is called Marathon and is, in my humble opinion, even better than Grain and Grape.
You can get Marathon on iTunes or as a physical copy straight from the Roughs (by paying via paypal).
Paypal :
 And if you haven't bought Grain and Grape yet, I will strongly recommend that you do.
Grain and Grape on iTunes
Grain and Grape physical copy
For more information on Taylor Locke & the Roughs visit TLATR.com, where you can also find the links to all the Roughs official social network sites like twitter, facebook etc.
_____________________________________________________________________________
Also remember that Ned has his own solo album out called Great to Say Hello.
You can get this album via paypal on nedbrower.com
_________________________________________________________________________________
Last but not least, Robert has a Solobob song up on iTunes called Fantastic 15.
LIVE CONCERT FROM BERLIN
You can still watch the interview and the live concert from Berlin.
There'll be a commercial first, but afterwards you can choose what you want to see from the concert.
Dresden Pictures
There's a lot of pictures up on Regioactive.de
Jump Radio
Jump Radio has a bunch of sound clips up, however they're voiced over.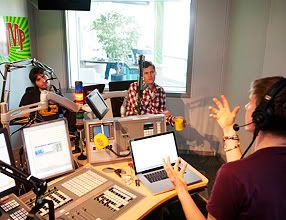 Radio Gong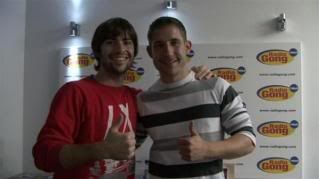 You can find a video of Robert on Radio Gong on their website.
 Radio Saw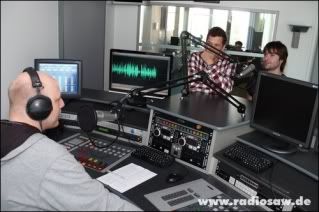 There's a bunch of picture of Ned and Robert visiting Radio Gong on their website.
You-fm interview
Sound clips from Rooney's interview with you-fm.de is up on their website.
Welt.de
For those who read German (or want to try out google translate ;P) welt.de has a little something up about the show in Hamburg on their website.
Videos
Here's some videos… if you search youtube there's more video, but here's a few of them.
Stars and Stripes
I Can't Get Enough
Stay Away
Runaway
Keep on Rocking in the Free World
I haven't updated here in a while, however if you follow me on twitter I have been updating a little there.
There's a couple of things I wanted to let you know about.
Rooney will be touring in Germany in October. All the dates are up here as well as on Rooney-band.com. Tickets can be bought via artisttickets.com. This is the first time Rooney is touring in Europe since spring 2008, so make sure you go to a show if you can make it.
Taylor Locke & the Roughs are playing 2 shows in September. One in Las Vegas on the 17th and in LA on the 18th. You can see information about both shows under tourdates or if you visit tlatr.com.
Matt, Taylor and Ned (yes, I said MATT) will be joining Bleu & Mike Viola at 11pm (show starts at 9pm) for a special night with friends on September 22nd at the Hotel Cafe. Chris Price from Taylor Locke & the Roughs will also be joining them.
——————————————
There's a Eureka trailer up on pop24.de with interview parts with Rooney.
There's a video with Sarah and Ned up on The Nest's website (under Real Home Tours).
Taylor and Louie have a new video up on their accurateportrayor vimeo
The Big To-Do from accurateportrayor on Vimeo. 
As for Robert, he has posted some videos and pictures via his twitter… Go check it out. www.twitter.com/rcschwartzman
Taylor Locke stage dives
I don't know if you've heard it, but at the very last Hanson/Rooney show, Rooney came out while Hanson played Mmmbop. At the very end of the video Taylor jumps head first into the crowd (at 6:20). Kudos Taylor, hope you didn't hurt anyone
Thanks to PortalHansonBR for uploading the Hanson Live Stream video and Get Your Rooney Wisdom for posting the link.
Here's the videos from the live stream that Rooney did with Hanson the other day.
Part 1
Part 2
Thank to portalhansonbr for posting it and to lorisagon for the tip