Have you ordered your copy of Eureka yet?
Otherwise, pre-order your copy from Amazon today.
The pre-orders Rooney had up earlier shipped two days ago, and I know at least one person already got it.
So hopefully everyone who ordered it already have it by June 8. A day to celebrate
Rooney will be on the radio – Kruz 97.5 – on June 6th from 6-7pm. They'll be playing an acoustic performance.
If you don't live anywhere you can get that station, you can tune in and listen to it here.
Rooney will be doing an in-store performance at Best Buy in Thousand Oaks on June 8. This takes place at 6pm.
Another post with a lot of updates… Thankfully we have a lot of those these days
Absolutepunk.net is streaming "You're What I'm Looking For" from Eureka – listen to it here.
Altpress.com is streaming "Holdin' On" from Eureka – Listen to it here.
AP also have a contest up for people in the US where you can win, amongst other things, autographed rollerskates.
Check out the concert here.
There's a couple of videos up on mtv :
Louie talks about the tv show "Lost" (1:12-1:19)
The new music video is up on MTV
*update : Youtube video for those who can't see the video on mtv. Not the best quality, but it was the best I could do.
 Twitter
For very new 2000 followers, Rooney will post a new acoustic video.. So help get Rooney more followers
http://www.twitter.com/rooneyband
First acoustic video, which is I Can't Get Enough, is up now.
Myspace
Both I Can't Get Enough AND I Don't Wanna Lose You are streaming on their myspace. Head over and listen.
Streaming those + adding a comment is also a new order in the Street Team, so make sure you comment and take a screenshot, to get your points in the Street Team
Radio
Help Rooney get played on the radio… Here's some of the radio stations that's added ICGE to the rotation
95 Triple X

Burlington and Plattsburgh, VT
Studio Line: 1-888-805-9595
E-Mail Requests: 
fm@95triplex.com
WVYB-FM
Daytona Beach, FL
96X
Norfolk, VA
Studio Line: 757-622-9696
If you haven't, you should do it right away.
*update – just added – take screenshot of you listening to ICGE on Rooney's myspace and get 200 activity points and 100 store points
There's now a "Release Promo Pack" available in the general store on the Street Team site.
You'll get 10 posters, 100 stickers and 150 flyers to post around your town.
Besides that, there's also an "order" about this pack, which will give you 400 activity points and 300 store credits. Double win
Order your promo pack today and start promoting Rooney while earning store credit to get cool Rooney merch for.
I Can't Get Enough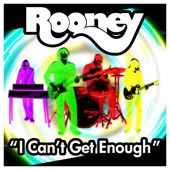 The new single "I Can't Get Enough" is now available on iTunes for $1.29.
ICGE on Amazon.com
Eureka
There's also 2 pre-orders for Eureka up.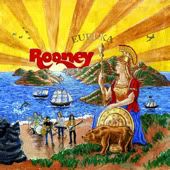 Eureka – $9.99
Eureka (Deluxe Edition) – $11.99
The deluxe edition contains 4 bonus songs :
Pity
I Don't Wanna Lose You (Acoustic version)
Can't Put Your Heart Around Everyone
Go On (Acoustic version)
I can't buy or pre-order neither the single or any of the album, so I'm assuming it's US only? I'd love to hear who's able to buy and who isn't.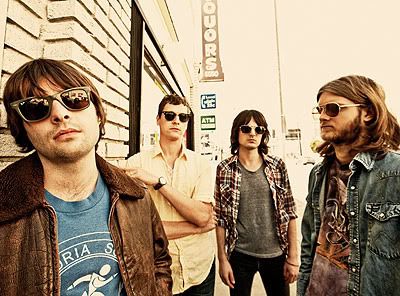 Ears Wide Open: Rooney
I'm not sure there are a lot of Eureka moments on "Eureka," the forthcoming third album by Rooney — Robert Schwartzman and mates, however, have become some of the most reliable purveyors of '60s- and '70s-leaning power-pop around. As by-the-diagram as the L.A. quartet's new disc sometimes feels, Taylor Locke's sharp guitar work, as well as "Eureka's" honeyed melodies and sticky choruses, make it a perfect summertime companion. Just try to sit still during the bouncy "Can't Get Enough." The album is due June 8 via the band's own California Dreaming Records.
||| Download: "I Don't Wanna Lose You" (e-mail required)
Credit : buzzbands.la
————————————————————————————————
MP3 At 3PM : Rooney
In anticipation of the June 8 release of Rooney's third album, Eureka (California Dreaming), download first single "I Don't Wanna Lose You" below, grab a few (dozen) Coronas, call all of your friends, take off your clothes, and hit the beach. The Los Angeles rockers have done it once again, blending classic pop melodies, dance beats and echoing guitar riffs to create the perfect background to the sandy summer nights of your youth. And not only does the music suit your reckless lifestyle, you believe Robert Schwartzman as he sings with the conviction of a newlywed about the importance of holding on to love, regardless of the difficulties it will inevitably entail.
Credit : Magnet Magazine
New Ustream from Robert

NOTE : YOU CAN PRE-ORDER EUREKA EVEN IF YOU LIVE OUTSIDE THE US.
I know for a fact that people from Brazil, UK, Denmark and Germany have pre-ordered Eureka.
Shipping for the bundle (t-shirt + cd) to Europe is just under $10 ($9.81 I think), which makes it just under $35 in total (that's about 28 euros in total).
Totally worth it.
You can pre-order a signed copy of Eureka here.
Summer Tour
In case you've missed it, Rooney is going on tour this summer.
They'll start out headlining with the bands The Young Veins and Black Gold as openers.
This makes me wish I lived in the US. I love The Young Veins – and I've seen Black Gold open for Panic At the Disco once, they're really good.
At the end of July, Rooney will join the Shout It Out tour opening for Hanson, while they'll still throw in some headlining shows. All the tourdates that's been confirmed are up on Rooney-band.com – and I've started adding them to RooneyJuice. You can get tickets for most of the shows that Rooney headlines on Rooneytix.com.
If you buy your ticket on Rooneytix.com, you'll get a signed tour poster with your order.
Summer tour announcement

Street Team
Rooney's street team has moved – so please sign up for it rooney.fancorps.com
The Office Sketch
Seems like Taylor and Louie had fun while they were on the set of ICGE
 Taylor Locke & the Roughs
Taylor and Chris are currently in the studio recording TLATR's 2nd album. You can read a little about that on TLATR.com
Taylor has done an interview with the Rock & Roll Report, where he answered a question about Rooney's new album.
Q: Anything you can tell us about the new Rooney CD coming out later this year?
A: It's eclectic and cool, and we self-produced it. I'm proud of my contributions and my bandmates' contributions. We did it at Robert's home studio, and some at me and Ned's studio as well. I played lots of slide guitar, which was fun for me. It's the same good-time Rooney you're used to, but with a few new twists. Some psychedelia, some jazzy bits, etc. Check it the fuck out!
Thanks to Ale from TLATR.com for that one.
Robert Schwartzman
Robert has done some interviews. Here's a few of them :
Teencelebrity-buzz
No Holds Barred
Baaarooke
White (city) Noise
Promote Rooney's Summer Tour
Here's the poster for Rooney's headlining tour. Please spread it around where you can. Show your support for Rooney.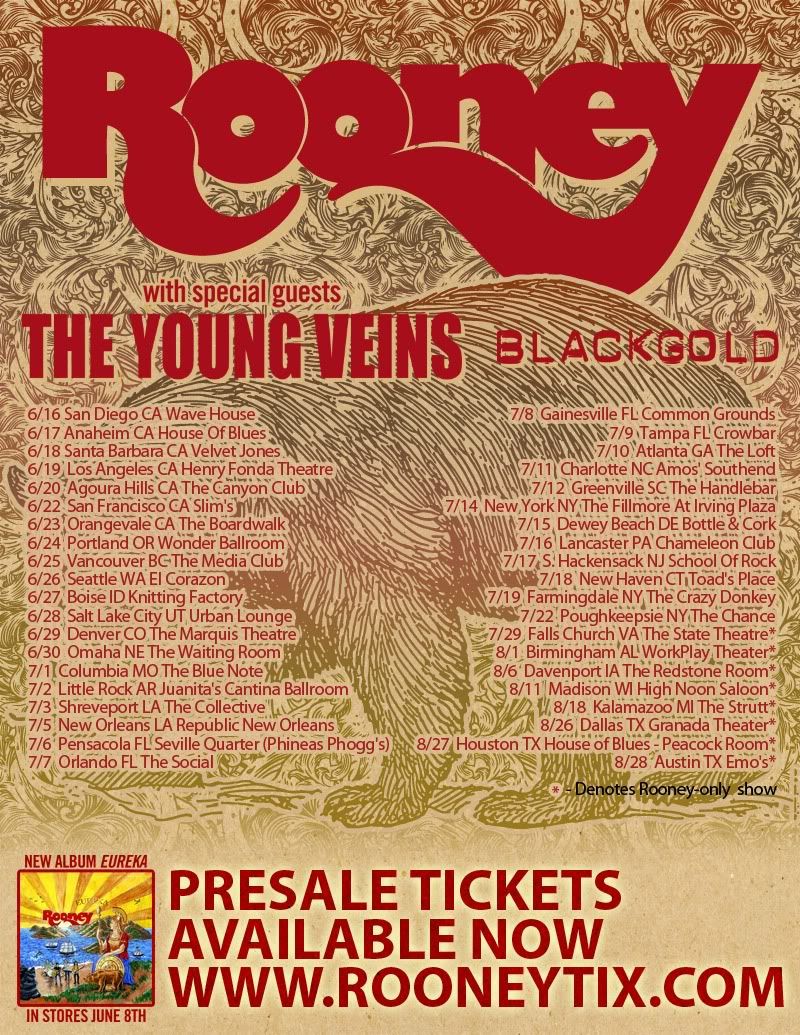 http://i9.photobucket.com/albums/a70/mandybear610/Rooney-HeadliningTourPoster.jpg